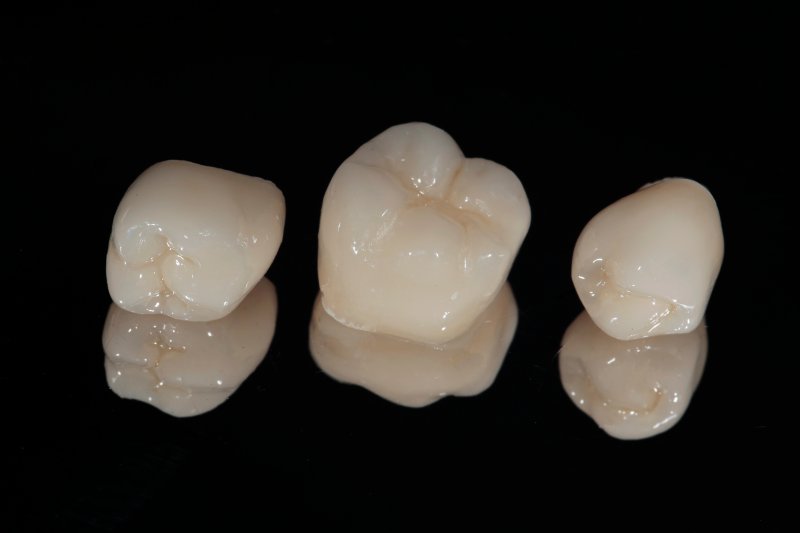 Dental crowns are used for a wide variety of purposes, but as with any dental restoration, they don't last forever. After several years, you might notice that your dental crowns don't look or feel quite as good as they used to.
It's possible that your dental crowns could fall out if you let them go long enough, so it's a good idea to replace them before that happens. Here are some signs that you ought to consider.
Noticeable Damage
Obviously, the most obvious indicator is any visible damage on your dental crown. If your restoration is chipped, cracked, or has a lot of wear and tear, it's not going to be able to adequately protect your tooth. If you notice any of this kind of damage, or if you feel like your tooth isn't being covered very well, that could mean that your restoration is due for replacement.
You See a Black Line Around Your Crown
If you've had your dental crown for a long time, you may have gotten a porcelain-fused-to-metal crown. At one point these were the most popular dental crown on the market, though they have one large cosmetic drawback you may have begun to notice.
People's gums naturally recede away from the teeth as people age, which may expose the metal base around the dental crown. This can look like a black line around the base of the dental crown, which makes it look like there's something wrong with the crowned tooth.
This is a drawback of PFM crowns, so the only thing you can do to address this problem if it happens is to replace it with an all-ceramic or silver dental crown.
Your Crowns is Over Ten Years Old
Dental crowns have been known to last as long as 15 years if they're maintained well, but after around ten you should start to think about when your dental crown could fail. Be especially attentive to any signs of degradation past this point in time.
While you can catch a lot of these signs of decay on your own, your dentist will be happy to help you uncover any problems that could be lying beneath the surface. See them often, and they'll let you know when it seems like replacement could be necessary.
About the Author
Dr. Gregory Martin initially took over his family's dental office understanding that he had a big responsibility to uphold the standards of care and compassion that his father had set. Now, 20 years later, he's happy to say that he's been able to do that successfully. Dr. Martin received his DDS from the Howard University College of Dentistry, and he's a proud member of the American Academy of Cosmetic Dentistry.
If you have any questions about dental crowns, we can be reached at our website or by phone at (817) 481-1041.