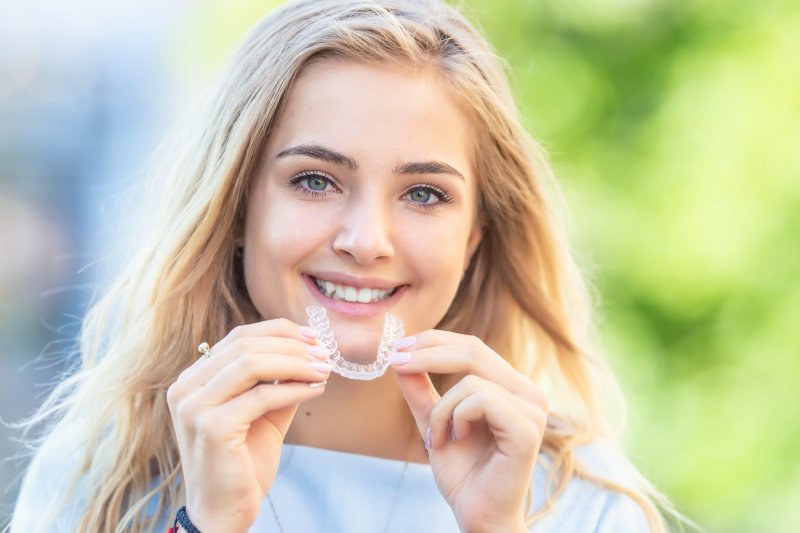 If you didn't naturally develop the perfectly straight smile that you were hoping for, you aren't alone. Invisalign is an excellent option for correcting misaligned teeth – especially if you don't want to endure a mouthful of metal brackets and wires. But what if you grind your teeth? Are you still able to reap the benefits of Invisalign? Continue reading to learn more about Invisalign and how grinding your teeth can affect the process.
Is Invisalign an Option If You Grind Your Teeth?
Invisalign's clear aligners are made using flexible plastic, so people who grind their teeth are often worried about whether or not they make a good candidate for treatment. Fortunately, most people who grind are able to get Invisalign. While there is a chance that your aligners could wear down faster, this isn't as big of a deal as you may think. Most of the time, patients only wear a given set of aligners for two weeks or so, and then it's time to move onto the next set. Your aligners can even act as a barrier for grinding, therefore preventing damage to your teeth.
How Does Invisalign Affect Teeth Grinding?
Invisalign may actually help to improve your grinding. When your teeth are not in an ideal position, your bite becomes misaligned. This can create uneven surfaces throughout your mouth. Teeth that don't fit together as they should can cause irritation to the temporomandibular joint (where your jawbone connects to your skull), causing you to involuntarily grind your teeth. By working towards a more aligned smile, it can reduce your grinding and even reduce related symptoms like jaw pain and headaches.
Who Makes a Good Candidate for Invisalign?
When deciding whether Invisalign is a good option, there are several factors to consider. Invisalign can correct crooked, gapped, crowded, and misaligned teeth in the upper and lower arches. However, some bite problems may be too severe to treat, so traditional braces are necessary to make the changes needed.
Age is a significant factor, as the jaw and teeth are constantly changing and growing from childhood to the teenage years. Patients also must wear their aligners for at least 20 hours a day to achieve desired results. While it can work for responsible teens, parents may want to consider braces for their younger children because they are fixed to the smile, making them lower maintenance. As long as they are committed to the Invisalign process, most teenagers and adults are good candidates for treatment.
Teeth grinding doesn't need to get in the way of straightening your smile. During your consultation with your dentist, you can find out whether or not Invisalign is right for you!
About the Author
Dr. Greg Martin earned his Doctor of Dental Surgery degree from the Howard University College of Dentistry in Washington D.C., where he graduated second in his class. Currently, he is a proud member of the Texas Dental Association, the American Dental Association, and the American Academy of Cosmetic Dentistry. If you're interested in Invisalign, Dr. Martin would be happy to help. For more information or to schedule a consultation at his office in Grapevine, visit his website or call (817) 481-1041.