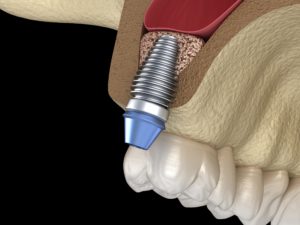 Bridges, partials, and dentures aren't the only methods to replace missing teeth anymore. 500,000 people every year are choosing dental implants to complete their smiles. They are a popular solution for tooth loss because dental implants are unlike any other treatment, but are they safe? Dental implants are supported by decades of success with few risks of complications.
How are Dental Implants Different?
Traditional dental prosthetics only recreate the portions of lost teeth above the gum line. A dental implant differs because it mimics both the root and the crown, creating a close replica of a real tooth.
A multi-step treatment process, advanced technology, and high-quality materials provide predictable results. They have over a 95% success rate and are safe for most patients with good oral and general health.
Dental implants may not be the right option for patients with a compromised immune system or poor bone health. Certain medications and health conditions can affect your body's ability to heal and fight infections or affect your bone health, which can increase your risk of failure.
Your dentist will examine your mouth, review a CT scan of your oral structures, and learn more about your medical history to ensure there are minimal risk factors for complications. Based on their findings, they may recommend a few extra steps to your treatment plan to ensure the success of your new smile, like bone grafting or periodontal therapy.
From start to finish, your safety and the success of the procedure will be your dentist's top priorities.
What You Can Expect With Dental Implant Surgery
After you've healed from any preliminary procedures, you will be scheduled for your implant surgery. Your dentist will use an anesthetic or sedative to keep you comfortable. You'll be monitored closely while they open your gum tissue to gain access to your jawbone.
Computer-guided technology pinpoints the precise location to insert a titanium post into your bone. The advanced technology takes the guesswork out of the process for optimal results. Titanium is the preferred material because it's biocompatible and has a low risk of allergic reactions.
It can take several weeks for your bone to fuse to the implant through a process called osseointegration. This will keep your jaw strong and healthy while providing a stable foundation for your restoration.
High-quality materials are used to craft your restoration to look natural, which will be attached to the implant using an abutment.
How Long Do Dental Implants Last?
Unlike traditional bridges and dentures, dental implants don't have to be replaced every few years. They are proven to last for 30 years or more with the correct care.
The biggest threat to their success is a preventable infection called peri-implantitis. A good oral hygiene routine at home and regular care from your dentist will ensure your investment thrives for decades.
About Dr. Gregory D. Martin
Dr. Martin earned his dental degree at the University of Texas Health Science Center and has regularly continued his education to provide advanced services, like fixed prosthodontics, restorative dentistry, and dental implants. He is a proud member of many professional organizations, including the American Dental Association. Request an appointment through our website or call (817) 567-2125.