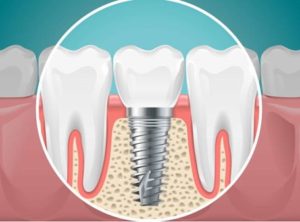 Losing a front tooth is a common fear because no one wants to have a gap to be the focal point of their smile. Losing a molar may not seem as concerning because it will be more difficult to detect. However, a missing back tooth is more than an aesthetic problem. Here's why you don't want to wait to fill the space with a dental implant.
Risks of Untreated Missing Teeth
Teeth are crucial for more than just a beautiful smile. Each tooth is vital for your oral and general health. Losing even one will have detrimental consequences for your general wellness if it isn't replaced, including:
Low Self-Esteem: Research has found that people who aren't happy with their teeth often have poor confidence and are less outgoing.
Bone Loss: Your jaw will deteriorate if it isn't stimulated by a root. You can lose 25% of your jaw's density within the first year of missing a tooth, which will continue to decrease as time passes.
Dental Problems: Bone loss can cause your remaining teeth to shift from their positions, increasing your risk of cavities, gum disease, and additional tooth loss.
Aged Appearance: Sagging facial skin and wrinkles can occur with bone and tooth loss.
Nutritional Deficiencies: Eating certain foods can be difficult. Eliminating them from your diet can lead to nutritional deficiencies.
You don't have to put your smile at risk of preventable complications. You can replace your molar with the next best thing to a real tooth.
Benefit from a Dental implant
A dental implant is the only method of recreating both the root and crown of a lost tooth. A titanium post is placed into the jaw to serve as a root, stimulating new bone growth. The jaw fuses to the post through a process called osseointegration, allowing it to potentially remain in place forever. An abutment is attached to the post to connect a custom-made restoration that looks like a natural tooth.
Dental implants are the most reliable solution for tooth loss, and for good reasons, like:
Over a 95% success rate.
Stops bone loss in the jaw.
Prevents dental drift to avoid costly procedures down the road.
Up to 70% of biting force is restored to maintain a nutritious diet.
Promotes a youthful appearance.
A life expectancy of 30 years or more.
Long-term, cost-effective option.
It is best to treat a lost tooth quickly, especially if you're interested in dental implants. Waiting too long can cause you to lose too much density in your jaw. As a result, you may require bone grafting before getting dental implants.
Although you may not see a missing molar when smiling, don't delay having it replaced. Contact your dentist to invest in a complete smile with dental implants.
About Dr. Gregory D. Martin
Dr. Martin earned his dental degree from Howard University College of Dentistry and received the Restorative Dentistry Award in his junior and senior years. He has regularly continued his education to provide advanced services. If you are ready to permanently replace your missing teeth, contact our office today to request a consultation.