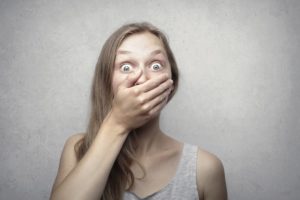 You probably don't spend much time thinking about your mouth, but your oral health affects your general health. As the gateway to your body, healthy teeth and gums are vital for your well-being, which is why oral hygiene is so important. Unfortunately, brushing and flossing aren't enough to safeguard your smile. The American Dental Association recommends a cleaning and checkup every 6 months, but 35% of adults haven't seen a dentist in the past year. If it's been a while since your last cleaning and checkup, here are 4 frightening stats you should know.
1. 91% of Adults Have Cavities
Tooth decay is preventable; however, it's the most prevalent chronic health condition for adults and children. Although your enamel is the hardest substance in your body, it isn't any match for cavity-causing bacteria. Brushing, flossing, and limiting your sugar consumption can keep tooth decay at bay. Your dentist can detect the smallest areas of weakened enamel for quick intervention during routine cleanings and checkups.
2. 50% of Adults Have Gum Disease
Gum disease is also a leading cause of tooth loss, despite being preventable. Not only can it wreak havoc on your smile, but the infection may also enter your bloodstream, increasing your risk of serious health issues, like heart disease, Alzheimer's disease, and pregnancy complications. Flossing is the only way to remove plaque buildup left behind by your toothbrush to keep your gums healthy.
3. 120 Million Americans are Missing Teeth
Teeth are meant to last for a lifetime, but that's not a reality for many adults. Despite the latest advancements in dentistry, 40 million Americans have lost all their teeth. Although tooth loss is common, you can prevent losing your teeth with a solid home oral hygiene routine and regular dental appointments.
4. 1 in 6 Americans Have a Dental Emergency Annually
You may never expect it to happen to you, but dental emergencies are common. While you might believe they only result from trauma or injury, many are caused by untreated dental issues, like cavities. Not seeing a dentist regularly or delaying dental work can cause a minor concern to turn into a big problem. Your dentist will monitor your oral health to ensure there aren't any untreated problems lingering in your mouth during semi-annual appointments. Don't forget to wear an athletic mouthguard if you play sports to prevent a friendly game of football from turning into a day in the dental chair.
It's never too late to recommit to your oral health. If you skipped your last cleaning and checkup, schedule an appointment today to ensure your beautiful smile lasts for a lifetime.
About Dr. Gregory D. Martin
Dr. Martin achieved his dental degree from Howard University College of Dentistry, where he received the Restorative Dentistry Award for 2 years in a row. He has regularly continued his education in many specialties, like fixed prosthodontics. If you need a dentist with a reputation you can trust, contact our office today to request an appointment.