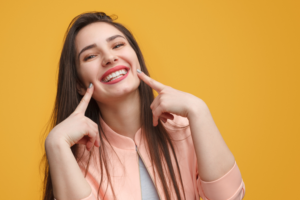 You have probably heard that a beautiful smile is contagious, but what if you don't like the way your teeth look? You aren't alone. Many people are embarrassed by discoloration, chips, gaps, or other aesthetic flaws. You don't have to hide your teeth any longer. Your cosmetic dentist can create a smile you'll be proud to share with the world. Along with a boost in your confidence, here are 6 additional benefits of smiling.
1. Improve Your Professional Image
Studies have found that attractive teeth are associated with youth, intelligence, and success. Correcting aesthetic imperfections can revamp your smile to take your career to the next level. You will be more appealing to potential employers by ensuring your teeth are giving the right first impression.
2. Reduce Your Stress
Life is stressful, but research has found that smiling can help you relax. An article published in the Wall Street Journal revealed people who smile during a stressful task experienced a quicker reduction in their heart rate. The muscle activity used for smiling signals the brain to influence the body's natural response to stress.
3. Support Your General Health
The Loma Linda University School of Medicine's Department of Clinical Immunology found laughing can boost your immune system. Laughing increases white blood cells in the body to help fight infections.
4. Feel Your Best
A study by physiologist Paul Ekman found that spontaneous or purposeful smiling can stimulate your brain to trigger a pleasing reaction. Not to mention, if you aren't worried about the way your teeth look, you are more likely to be outgoing thanks to your improved self-esteem.
5. Turn Back the Clock
Tooth discoloration, chips, and other cosmetic issues can make you look years older than your chronological age. A simple whitening treatment or another elective procedure is a quick method to restore a youthful appearance. You won't have to go under the knife to turn back the clock.
6. Improve Your Oral Health
Certain cosmetic issues can also affect your dental health, like decay, chips, or alignment problems. Correcting the imperfections can improve your oral health and functions. In some cases, cosmetic dentistry can be an investment by reducing your long-term dental expenses.
Is Cosmetic Dentistry Right for Me?
If you don't like the smile you see in the mirror, you may be a candidate for cosmetic dentistry. You'll require a consultation with your dentist to ensure your teeth and gums are healthy. They'll examine your mouth and learn more about your goals to create a personalized treatment plan.
Everyone deserves to enjoy the benefits of a confident, attractive smile. Find out if cosmetic dentistry is right for you.
About Dr. Gregory D. Martin
Dr. Martin earned his dental degree from the Howard University College of Dentistry and has completed extensive education in many specialties, including restorative dentistry and fixed prosthodontics. He has the qualifications you can trust to achieve the smile of your dreams. Contact our office today to request your consultation for cosmetic dentistry.