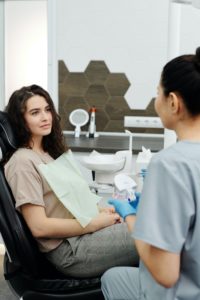 Everyone deserves to have a beautiful, confident smile; however, few people have naturally attractive teeth. Not to mention, years of wear and tear, poor oral hygiene, or trauma can affect their appearance. Whether you didn't hit the genetic jackpot or haven't had the best brushing habits, you can achieve a picture-perfect smile with cosmetic dentistry. Elective services are a big investment, so you don't want to trust your teeth to just anyone. Here are 6 tips to choose the right cosmetic dentist to revamp your smile.
1. Qualifications and Experience
Don't pick the first dentist listed on Google because not all have undergone advanced training in elective procedures. Review the qualifications and experience of each dentist that you are considering. Look for one with the skills necessary to resolve your specific concerns, like broken, stained, or missing teeth.
2. Professional Accreditations
Besides their training and experience, choose a dentist that's a member of specific professional organizations, like the American Academy of Cosmetic Dentistry or the American Dental Association. The voluntary memberships indicate a commitment to excellence to receive superior care.
3. Scope of Services
Continual improvements in dentistry provide more solutions than ever to achieve the smile of your dreams. Review the dental practice's scope of services, so you aren't limited by your options. Look for advanced treatments, like veneers, Invisalign, or metal-free restorations to benefit from the best cosmetic dentistry has to offer.
4. Payment Options
Every situation differs, but most dental plans can't be used for elective treatments that aren't needed for medical purposes. If you can use your coverage, it likely won't cover the entire cost. You can still get the stunning smile you desire without breaking the bank by choosing a dentist that provides various financial solutions, like third-party financing.
5. Location and Office Hours
Depending on your needs, you may require more than one appointment to reach your goals. Don't let time or scheduling conflicts delay your journey to a confident smile. Look for a dentist that's close to your home or workplace with office hours that accommodate your lifestyle.
6. Reviews and Testimonials
Read online reviews about a dentist and their dental team to learn more about the office. You'll have firsthand insight into their chairside manner, cleanliness, success rate, and much more to ensure they are the right fit for your smile.
Schedule Your Consultation
After choosing a dentist, scheduling your cosmetic consultation is your next step. Use the time to get to know your dentist to feel comfortable with your decision. You'll have an attractive smile you'll be proud to share with the world.
About Dr. Gregory D. Martin
Dr. Martin earned his dental degree from Howard University College of Dentistry, where he received the Restorative Dentistry Award because of his excellence in advanced procedures. As a member of the American Academy of Cosmetic Dentistry and other professional organizations, he has the qualifications and reputation you can trust. Contact our office today to schedule your consultation for cosmetic dentistry.