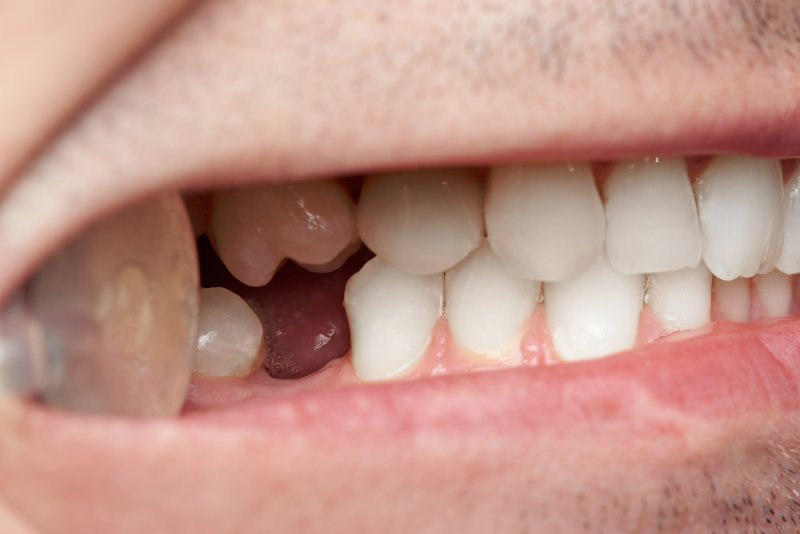 Today, over 170 million Americans are struggling with one or more missing teeth, and that statistic is expected to grow in the next decade. Whether it's from gum disease, trauma, or simple wear, even one missing tooth can wreak havoc on the look and function of your smile. So, if you are thinking you don't have to replace a missing back tooth, think again. Here are four reasons why you should!
The Risks of Not Replacing Your Missing Back Teeth
When it comes to tooth loss, people often treat a missing front tooth with much more urgency since the gapping space is evident every time you open your mouth. In reality, your back teeth are just as important, and their absence can lead to a number of dental problems, including:
Deterioration of adjacent teeth
Difficulty chewing
Bone loss
Misalignment
5 Benefits of Dental Implants
Thanks to modern dentistry, missing one or more teeth doesn't have to be a permanent issue. In fact, state-of-the-art tooth replacement options, like dental implants, come with a number of priceless benefits, including:
Longevity – With the proper care, dental implants can rebuild your smile and restore your bite for 20+ years!
Root to crown tooth replacement – Unlike dentures, which only replace the visible portion of your tooth, dental implants are inserted directly into the jawbone, effectively replacing the entire tooth's structure.
Lifelike – Dental implants are meticulously crafted to match the size, shape, and shade of your surrounding teeth. The result? A replacement that is fully functional and extremely natural-looking.
Stability – Since the posts undergo a process called osseointegration (which is when they fuse to the jawbone), you won't have to worry about embarrassing movement when you're chewing or talking with dental implants.
Easy care – Like your natural teeth, you can keep your dental implants in pristine condition throughout the years by implementing a solid at-home oral hygiene routine, visiting your dentist every six months for a checkup and cleaning, and avoiding poor dental habits, like smoking and chewing on ice.
Who Is a Candidate for Dental Implants?
Whether you are missing one, a few, or an entire arch of teeth, you may be a candidate for dental implants. However, your initial consultation will involve a thorough dental exam to confirm. Fortunately, even if an untreated issue stands in your way initially, like gum disease, your dental team can intervene with the appropriate treatment first. So, don't hesitate to get in touch with your dentist today!
About the Author
Since earning his dental doctorate from the Howard University College of Dentistry (where he graduated second in his class!), Dr. Gregory D. Martin has helped countless patients achieve the complete, healthy, beautiful smile they deserve. Throughout his career, he has continued to pursue continuing education and maintain an active membership with prestigious organizations like the American Academy of Cosmetic Dentistry, which ensures he is always abreast of the latest techniques and technology. If you are struggling with one or more missing teeth, get in touch with him today via his website or by phone at 817-481-1041.