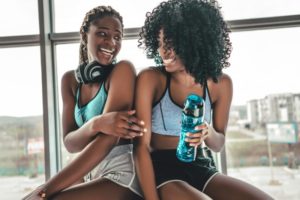 Orthodontic problems including crooked, crowded, and rotated teeth can have a huge impact on your student athlete's everyday life and future oral health. As a parent, you understand how passionate they are about playing their sport, and you don't want them to have to give that up while they undergo treatment. Fortunately, Invisalign in Grapevine offers unique benefits that work perfectly with the rough and demanding life of a student athlete. Read on for three advantages Invisalign has to offer teens who play sports.
More Comfortable To Wear On The Field
Unlike traditional metal braces that are made from brackets and wires that are known to scrape and irritate the mouth, Invisalign aligners are made from a smooth, custom-fitted plastic that will comfortably fit your child's mouth. As they're bobbing and weaving around their competitors, taking deep breaths, and constantly moving, traditional braces can make them uncomfortable while they're trying to get in the zone. With less cumbersome and chunky Invisalign trays, they'll be able to comfortably breathe, dodge, and run without having to focus their attention on how much oral pain they're experiencing.
Less Risk Of Serious Damage
If your child plays a contact sport or activity that could harm their mouth, metal braces may be a bad decision in terms of orthodontic treatments. One tackle or hit could cause a bracket or wire to become damaged, which could result in an oral injury. Each set of Invisalign aligners is perfectly fitted to be snug around your child's teeth so they won't have to worry about damaging their trays or having them fall out when they hit the ground. Plus, if they don't feel comfortable wearing their aligners during a game and would like to substitute a protective mouthguard, because the trays are easily removable, they'll be able to take them out before their game starts and put in their guard.
Added Confidence While Celebrating Their Wins
There's nothing like scoring a goal and being able to celebrate with your team. Unfortunately, children and teens who aren't as confident may not feel completely comfortable letting their smile show in front of an entire crowd when their mouth is full of unattractive metal, taking away from their overall experience as a student athlete. Invisalign aligners are discreet, which means that from their fans' perspectives, they won't even be able to tell that they're undergoing orthodontic treatment. The aligners are clear and nicely blend in with their current smile while still improving misalignment and crowding.
Working with their Grapevine dentist, your student athlete can enjoy the best of both worlds by maintaining their current image while working towards a straighter and improved smile. With all of the benefits that this modern orthodontic treatment has to offer athletes, your child will continue to enjoy every precious moment they have on the pitch, even with Invisalign aligners.
About the Author
Dr. Gregory Martin takes pride in providing his patients with high-quality, individualized dental care that solves all of their oral needs. He uses the latest technology in his practice, allowing him to offer modern services such as Invisalign for both his younger and more mature patients. His goal is to achieve long-lasting results that help his patients feel more confident about their oral health and the appearance of their smile. For questions or to schedule an initial consultation for Invisalign, visit Smiles By Martin's website or call 817-481-1041.