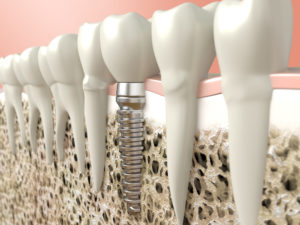 According to the Dental Products Report, more than half a MILLION dental implants were placed in 2017 alone in the U.S. That is a lot of men and women walking around with beautiful, full new smiles! Clearly, dental implants are a popular way to restore missing teeth. However, do dental implants ever fail? If you are considering dental implants in Grapevine, keep reading below to discover the answer.
What is a Dental Implant?
A dental implant is a very small titanium post or screw that is surgically placed into the jawbone in the space where there is a missing tooth. Over the course of several months, the implant fuses with the surrounding bone through a natural process called "osseointegration". Once osseointegration is complete, an artificial tooth is placed on top of the implant.
By mimicking the natural tooth root structure, dental implants effectively fill the gap in the patient's smile and restore their ability to eat, speak and smile with confidence.
Do Implants Fail Often?
Let's be clear: dental implants are a highly effective and successful way to replace missing teeth. In fact, according to the American Academy of Implant Dentistry, implants have a success rate of up to 98%!
However, in some rare cases, a failed dental implant in Grapevine can occur. Short-term implant failure is often associated with unsuccessful osseointegration. Factors that can prevent the bone and implant from fusing together include:
Smoking
Gum disease
Uncontrolled diabetes
Poor oral hygiene
Weak jawbone
Can Short-Term Dental Implant Failure Be Treated?
Yes! Even in the rare case that your dental implant fails, a dentist in Grapevine will likely be able to successfully treat it. For short-term dental implant failure, treatment usually involves removing the implant and repairing the site with a bone graft. A new dental implant can then be placed once you have fully healed following the grafting procedure, a process that takes only a few months.
Immediately treating a failed implant is highly recommended. If left untreated, you may experience all of the following uncomfortable symptoms.
Pain in your mouth
Shifting of the implant post
Bleeding
Bone loss
Pus formation
What About Long-Term Dental Implant Problems?
Once your implant has successfully healed and your new tooth is in place, it is important to continue practicing excellent oral hygiene at home and visiting a dentist in Grapevine twice a year.
If not, you may increase your risk of peri-implantitis, a chronic infection in the gum and the bone supporting an implant. If left untreated, the infection can lead to bone loss around the implant and even implant failure.
Moderate peri-implantitis can typically be treated using antibiotics or laser therapy. For more serious infections, surgical treatment may be required to save the dental implant.
Dental implants are a popular and effective way to replace missing teeth. If you are considering dental implants in Grapevine, talk with your dentist beforehand about oral care tips to avoid implant failure.
About the Author
A proud graduate of the University of Texas Health Science Center, Dr. Greg Martin helps restore the smiles of the men and women of Grapevine through dental implant treatment. As a third-generation dentist, he knows the importance of listening and building relationships with every patient in order to deliver the best possible care. Those interested in learning more about dental implants can visit Dr. Martin's website or calling 817-481-1041.