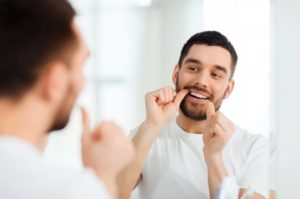 Everyone knows the importance of good dental hygiene, right? Apparently not; according to a survey by Delta Dental Plans Association, only 58% of Americans visit the dentist at least once a year. That means more than a third of the population isn't getting the care they need to protect their smiles from cavities and decay. Since October is National Dental Hygiene Month, it's a good time to remember why scheduling a teeth cleaning in Grapevine is so important for the continued health of your mouth.
Why Is Good Dental Hygiene So Important?
The most obvious consequence of poor dental hygiene is the development of cavities and gum disease. These conditions, if left untreated, can eventually lead to tooth loss, making it far more difficult for you to eat and speak properly. And of course, a gap in your teeth can leave you feeling a lot more reluctant to smile.
Unfortunately, it's not just your grin that's at risk. Oral health issues like gum disease can contribute to cardiovascular problems, diabetes, pregnancy complications, arthritis and more. For example, there are several studies that suggest oral bacteria can travel to the heart and increase your risk of cardiac arrest or stroke. By following the advice of your dentist in Grapevine and taking care of your teeth and gums, you might not prevent these conditions altogether, but there's a good chance you can make them less likely to occur.
How Do You Practice Good Dental Hygiene?
You probably already know to brush at least twice a day, but if you want to get the most out of your oral hygiene routine, you should take the following tips to heart:
Brush Well, Brush Often: The technique you use for brushing matters. Hold the toothbrush at a 45-degree angle and use short back-and-forth strokes for the sides and tops of your teeth; for the back side, use shorter strokes while holding the brush vertically instead. Each brushing session should last for at least two minutes.
Use the Right Tools for the Job: Get a toothbrush with small bristles that can reach into the crevices where food debris and bacteria like to hide. When buying toothpaste, look for the ADA Seal of Acceptance to ensure the product is safe to use and will do a thorough job.
Don't Forget Dental Floss and Mouthwash: You should floss at least once every day and using mouthwash can help get rid of bacteria in especially hard to reach spots.
Pay Attention to Your Tongue: Bacteria can still accumulate on your tongue even after you're finished brushing, so a tongue scraper can be a good investment.
Of course, even with the best at-home dental care routine, you should schedule a dental checkup in Grapevine at least twice a year. These preventive visits, combined with excellent daily care, will help keep your smile clean and fully functioning.
About the Author
Dr. Gregory D. Martin is following in his father's footsteps by providing a high standard of care as a family-oriented cosmetic and general dentist. At his practice, Smiles by Martin, he uses advanced dental equipment to make sure each of his patients stay comfortable while receiving efficient and refreshing care. To schedule a preventive checkup and cleaning to maintain excellent oral hygiene, visit his website or call (817) 481-1041.