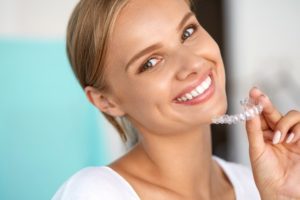 When you look at your smile in the mirror, do you see white spots on your teeth? Of course, your entire smile is white, but there are noticeable bright spots that can develop for numerous reasons. Besides affecting your appearance, these spots can also impact your oral health. In fact, certain orthodontics can cause this issue, which leaves patients wondering whether or not Invisalign in Grapevine causes white spots on their smiles. Keep reading to learn about the most common causes of white spots and why you don't have to worry about your appearance with Invisalign.
Too Much Fluoride
Fluoride is a naturally occurring mineral that helps fight against cavities, which makes it a healthy aid that dentists can use to protect smiles. However, too much of a good thing can be bad. Overexposure to fluoride can cause fluorosis, which shows up in white spots on the smile. This condition is most common in children because their smaller bodies have lower fluoride capacity.
Braces
White spots can also be cause by bacterial overgrowth, which is common in patients with braces. Because traditional orthodontics are fixed to your smile, it's much harder to practice good oral healthcare with thorough brushing. This leads to discoloration that can easily progress into tooth decay and cavities. When patients get their braces taken off, there is typically excess plaque and bacteria because these areas could rarely be cleaned. That's where there's an advantage with Invisalign.
Invisalign clear aligners bring patients numerous benefits, but one of them is that they're not fixed to the smile. Because they are completely removeable, you can maintain positive oral health while cleaning your aligners to ensure there isn't growth of bacteria. That way, you'll enjoy a beautifully straightened smile without any of the possible white spot repercussions that can occur.
Some Medicines
Certain antibiotics can cause white spots on teeth, which is why it's important to only take prescriptions given to you by a doctor. If you're taking medicine and then notice discoloration on your teeth, contact your dentist in Grapevine for treatment.
How Can I Get Rid of White Spots?
If you have white spots, don't worry! You can receive treatment from your dentist, who will carefully clean away this plaque and bacteria before it leads to worse problems. For extreme cases, your dentist may recommend porcelain veneers, a cosmetic treatment that can conceal and correct imperfections throughout the smile.
Many dentists understand that braces can be a main cause for white spots, which is why they offer Invisalign at their practice as a way to receive the smile of your dreams. If you have any questions about clear braces or the spots on your teeth, call your dentist today!
Meet the Dentist
Dr. Gregory D. Martin wants to provide the best treatments for his patients, which is why he offers Invisalign has a cleaner, more comfortable, and confident way to straighten teeth. For any questions, he can be reached through his website or by phone at (817) 481-1041.