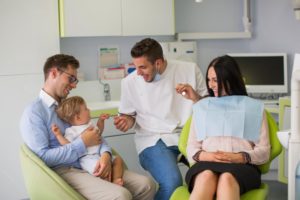 Believe it or not, a brand-new school year is just around the corner! After a full summer of fun activities, it's time to start preparing for the new academic season. That means buying school supplies and new clothes, as well as making sure your little one is physically ready. Sure, they've got their immunizations up to date, but is their oral health good to go? Unless they've seen their family dentist in Grapevine within the last six months, probably not. Let's take a closer look at why you should get your kids in to see the dentist before school starts.
1. Your Child Won't Have to Miss School
As a parent, you want your little one to receive the best education they can. That means attending class as often as possible. If you schedule a checkup with your dentist in Grapevine during the school year, odds are your child will miss an important lesson. They will have to sacrifice a portion of their education for their dental health. Both of those are important, so you don't want to have to choose one over the other. Save yourself from having to make that decision by booking an appointment before school even starts.
2. There Will Be More Time for Recovery
If your son or daughter needs an additional procedure done after their checkup, like a filling or a wisdom tooth extraction, summer offers ample time to get that treatment taken care of. Again, they won't have to miss out on their education to get their oral health needs met. There will be plenty of time to relax and recuperate after getting their treatment squared away.
3. Protect Against Sugary Summer Snacks
Summer is a popular time for sugary snacks and beverages like popsicles and juice. Although they taste great, these items can actually wreak havoc on your little one's teeth. The high sugar content is exactly what bacteria in plaque thrive on, and allows them to form cavities. The end of summer is the perfect time to get your child's teeth checked for decay. If there are any cavities, now is the perfect time to get them treated. That way, they'll have that clean mouth feeling before school starts.
A new season is about to start, so you might as well use this as an opportunity to get your and your child's mouth nice and clean. Be sure to implement a daily regimen of brushing and flossing as well to keep your mouth cavity-free.
About the Author
Dr. Greg Martin graduated second in his class when he received his Doctor of Dental Surgery degree from Howard University College of Dentistry in Washington, D.C. He earned the prestigious Restorative Dentistry Award his junior and senior years. At Smiles by Martin, he strives to help make every patient's grin both healthy and beautiful. To get your child in for an appointment before school starts, you can reach him via his website or by calling (817) 481-1041.