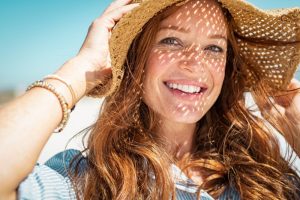 According to a study commissioned by Snow Teeth Whitening, 7 in 10 Americans feel self-conscious about their teeth. This leads 57% of Americans to cover their mouth when they smile and 1 in 2 people to try to smile with their mouths closed. If you're part of the 61% that wishes you could change something about your teeth, your cosmetic dentist in Grapevine is here to help. With simple treatments for everything from crooked to stained teeth, you can feel confident in your smile all summer long.
What Treatments are Available?
Achieving your dream smile is easier now than ever. Consider which of the following treatments best fit your unique needs.
Invisalign
For those requiring orthodontic treatment, extremely noticeable metal braces can be a tough sell. Luckily, Invisalign offers an invisible and flexible option for patients of all ages. Instead of wires and rubber bands, these aligners use clear plastic trays — custom made for your mouth — to straighten your teeth. Invisalign can be removed whenever necessary, allowing you to clean your teeth without obstruction and enjoy your regular diet without modifications. The smooth plastic trays are also more comfortable for your mouth and won't cause the painful cuts and sores that regular braces do.
Porcelain Veneers
These wafer-thin shells address a host of dental imperfections, including chipped, cracked, stained and gapped teeth. Porcelain veneers are attached to the front of your teeth with a special cement and designed to blend in with your natural smile. They are more stain resistant than other cosmetic procedures and achieve faster results than traditional orthodontics. The procedure is irreversible but offers a permanent way to transform your smile.
Tooth Restorations
There are two common ways to restore a damaged or decayed tooth: smooth over the imperfections with direct bonding or completely cover the tooth with a crown or bridge.
Direct bonding is used to address minor tooth decay or damage, including chips. The procedure consists of a resin material being directly applied to the tooth's surface, filling in any grooves and pits. The material bonds with your natural teeth to achieve a healthy-looking smile.
Crowns and bridges are used in severe cases to protect the tooth from further deterioration. Dental crowns are a custom-made cap placed over the surface of your tooth, protecting weak teeth from breaking and saving cracked teeth from needing to be extracted. Dental bridges are artificial teeth that can replace 1 to 3 consecutive missing teeth, blending seamlessly into your smile.
Tooth Whitening
While it may be tempting to use a whitening kit bought from your local store, professional teeth whitening is the most dependable method. Your dentist in Grapevine will craft customized application trays for you to use at home. All you need to do is add the whitening agents. Wearing the trays for a few hours everyday over a period of two weeks allows you to brighten your smile up to ten shades lighter.
Your self-consciousness about your smile doesn't have to be forever. Thanks to breakthroughs in cosmetic dentistry, there is a procedure available for every imperfection. Reach out to your dentist today to achieve your dream smile.
About the Author
At Smiles by Martin, Dr. Gregory Martin provides both general and cosmetic care to patients of all ages. During his studies, he received the Howard University Restorative Dentistry Award in both his junior and senior years. Dr. Martin is a member of the American Academy of Cosmetic Dentistry and the Texas Dental Association. If you have further questions about cosmetic dentistry, he can be contacted through his website or at 817-481-1041.