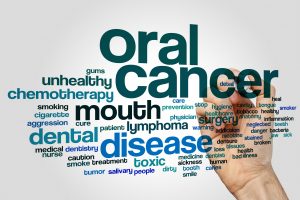 Oral cancers, already the sixth most common cancers in the world according to the National Institutes of Health, are on the rise in the United States. Indeed, recent research conducted by the independent nonprofit FAIR Health revealed that health insurance claims for oral cancer jumped a whopping 61% in the U.S. from 2011 to 2015. Early detection is critical for the successful treatment of this deadly disease. Do you know the warning signs? Your dentist does. April is Oral Cancer Awareness Month, so there is no better time than now to learn how an oral cancer screening in Grapevine can save your life.
What is Oral Cancer?
Oral cancer is a form of the deadly disease cancer that occurs in the mouth and part of the throat – including the lips, tongue, gums, inner cheeks, tonsils, esophagus and middle of the throat.
According to the National Institutes of Health, nearly 100,000 Americans are currently living with oral cancer and another 37,000 individuals will be newly diagnosed this year. Men and women with oral cancer may experience some of the following signs and symptoms:
Red or white dots or patches inside the mouth
Persistent, unexplained mouth pain
Persistent bad breath
Ear pain without any loss of hearing
The feeling that something is caught in the throat
Difficulty chewing or swallowing
Loosening of the teeth
Voice changes
What is an Oral Cancer Screening? Do I Need One?
Catching oral cancer in the beginning stages, before it has had a chance to develop and spread, is critical to overcoming the disease. Indeed, the five-year survival rate for patients diagnosed early with oral cancer is 75%, according to the National Institute of Dental and Craniofacial Research. However, the survival rate plummets to only 20% for those diagnosed later.
For this reason, regular oral cancer screenings are extremely important for every adult. Fortunately, your dentist will perform one as part of every routine dental checkup. During an oral cancer screening, he or she will:
Visually examine inside your mouth for signs of oral cancer
Use their hands to check for unusual bumps and lumps on your neck, face and head
Ask questions about your exposure to oral cancer risk factors (e.g., tobacco use)
Ask questions to help identify nonvisible symptoms of oral cancer (e.g., sore throat)
How Often Should I See a Dentist?
A lot can change in your mouth in a short amount of time. That is why the American Dental Association recommends seeing a dentist every six months for a routine dental checkup.
During a biannual oral exam and cleaning, your dentist will not only check for oral cancer, cavities and other dental problems but also expertly remove harmful plaque and tartar buildup from your teeth.
With oral cancer rates on the rise, preventive care is all the more important. Remain vigilant and protect your health by regularly visiting a dentist in Grapevine for an oral cancer screening.
About the Author
As a second-generation dentist, Dr. Greg Martin is following in the Martin family tradition of providing exceptional dental care to families and individuals in Grapevine. The University of Texas Health Science Center in San Antonio graduate enjoys helping patients achieve healthy smiles in part through regular preventive care. For more information on oral cancer symptoms and screenings, visit the Smiles by Martin website or call. Dr. Martin at 817-481-1041.