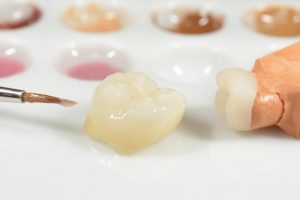 Dental crowns are one of the most common devices used in dentistry. When you've got a chipped tooth, a deep cavity, or root canal therapy to get done, dental crowns work to restore your smile and keep you protected.
But in order to do that, the dentist in Grapevine needs to make use of materials that he knows will last a very long time. He also needs to design and fabricate it to cover your natural tooth exactly. These are the materials you can expect him to use.
Different Crowns for Different Uses
Before explaining the different materials used for crowns, it's important to note that the materials can vary depending on what you or the dentist is trying to accomplish. Some crowns are better suited for covering specific teeth than others, while some crowns are not made to be permanent at all. In some cases, you'll have the option to choose one over the other depending how visible you care the restoration to be.
Metal Crowns
Metal crowns have been around the longest mainly because of their effectiveness at protecting damaged teeth. The most common alloys used in metal crowns include gold, platinum, or base-metal alloys. These base-metals include cobalt-chromium and nickel-chromium. Metal crowns typically last the longest because of their ability to withstand the constant biting and chewing forces that occur in the mouth. They're also most typically used on the molars which are the least visible and most prone to damage caused by chewing and grinding.
All-Porcelain/Ceramic
Porcelain offers people a more natural color thanks to it's inherent properties. It even reflects light in the same way as enamel, making it an ideal option for covering teeth visible in the smile. They're also an good option for those allergic to certain metals or those who don't want metal in their mouth at all.
All-Resin
Composite resins crowns offer the same aesthetic benefits as porcelain crowns but are nowhere near as durable. While they're a quick and cheaper solution, they're more prone to wearing down and fracturing after a certain amount of time due to the plastic material they utilize.
Porcelain-Fused-to-Metal Crowns
These crowns are the ideal middle ground between strength and aesthetic. The bottom portion consists of a metal substructure that is hidden by the top portion, which is made from ceramic material. This way, you get a stronger crown overall without having any metal sections visible in your smile. However, porcelain-fused-to-metal crowns are more prone to damaging neighboring teeth.
Temporary Crowns
Temporary crowns are typically made from acrylic-based material or stainless steel and can easily be made in the practice while the permanent crown is being fabricated. Temporary crowns are not meant to handle the same level of wear and tear as permanent crowns, so be careful with the foods you eat until your final crown is made.
Have more questions about which crown to get? Need to cover a cavity as soon as possible or handle a dental injury? Schedule an appointment with a Grapevine dentist today!
About the Author
Dr. Gregory D. Martin earned his DDS degree from the University of Texas Health Science Center at San Antonio. He also received the Restorative Dentistry Award thanks to his outstanding performance in the field of restorative dentistry. To learn more about his practice, contact him through his website.