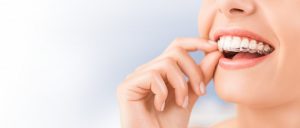 Studies show that the first thing most people will notice at an initial meeting is the condition of your teeth. Thus, if yours are gapped, crowded or misaligned, it could have a negative impact on the first impression you make. Thankfully, there's a way to turn things around in a very efficient manner with Invisalign in Grapevine. Before you commit to the process, though, let's discuss whether you'll be vulnerable to staining while wearing the clear aligners. Find the answer as your read on.
How are Invisalign Aligners Made?
Before we discuss the possibility of your Invisalign aligners staining, let's first take a look at how they're made. They consist of clear, plastic material that's custom-made to fit your teeth and gradually move them to the desired position. Because of their see-through design, Invisalign aligners provide a level of discretion that makes the treatment process more pleasant for patients.
If certain eating and drinking habits aren't either eliminated or limited, though, the aesthetic appeal of your aligners could be negated.
Stains on Your Clear Aligners
Your plastic trays can be stained if certain foods or beverages are consumed. Here are some of the items you should either avoid or limit your consumption of:
Coffee
Tea
Wine
Dark Berries
Tomato Sauce
The Importance of Oral Hygiene in This Process
Not only is oral hygiene integral in protecting your mouth, teeth and gums from the harmful effects of bacteria, it also helps to prevent staining. Brushing will agitate and remove a great deal of the food particles that can settle on your teeth and Invisalign aligners, while flossing will probe the hard-to-reach areas between your digits to fish out the remaining residue.
The combination of the two practices will leave you with clean teeth, which means there will be less bacteria and particles to cling to your aligners and cause stains to form on them as well. This indirectly contributes to better oral health – which brings us full circle in our conversation, because when bacteria get on your clear trays, they can then gain re-entry to your mouth and lead to infection.
The Dental Visit – Another Way to Prevent Stains on Your Aligners
Visiting your dentist for cleanings and checkups while wearing your clear trays also helps to prevent them from staining. That's because these appointments will provide you with clean teeth and will also allow your dentist in Grapevine to examine them and make sure there are no threats to your oral health.
Having the opportunity to improve your smile in a discreet yet effective manner is a marvel in itself, but taking the proactive approach and applying what you've learned here will ensure that you have an even more successful outcome. You'll also be able to enjoy a correctly aligned and beautiful smile for years to come!
To get the ball rolling, reach out to your local dentist to make an appointment today.
About the Author
Dr. Gregory D. Martin earned his dental degree from Howard University College of Dentistry, where he finished second in his class. Still, he continues to grow and expand his knowledge by participating in continuing education. To further stay abreast of the latest changes in the world of dentistry, Dr. Martin maintains membership in several professional organizations, while continuing to help his patients achieve the smile of their dreams at Smiles by Martin. He can be reached for more information through his website.