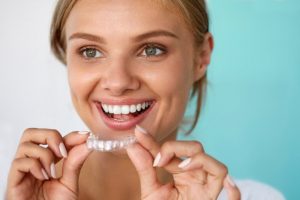 When you learn you need orthodontic treatment, you groan at the idea of wearing cumbersome braces for many months at a time. Your dentist tells you that you'll need to make dramatic changes in your diet, as well as your brushing technique. In response, you might just say you'd rather skip orthodontic treatment altogether. That's why your dentist offers Invisalign in Grapevine as an alternative to traditional braces.
One of the most common questions your dentist hears regarding Invisalign is treatment time, so he'll be addressing that today!
How Long is the Average Treatment Time for Invisalign?
Many dentists hold off on telling patients how long their treatment time will be because it largely varies from patient to patient. However, many often tell patients the average time to better contrast the treatment time for traditional braces. While traditional braces can take 18 to 30 months to complete, Invisalign only take between 6 and 18 months, giving you an average of 12 months.
With that being said, Invisalign requires a certain level of commitment for the treatment time to meet this length. Treatment time also largely factors in case complexity, which we'll be going over next.
How Your Case Affects Treatment Time
Keep in mind that the length of your treatment can vary widely based on the complexity of your case. Invisalign is typically for patients with mild to moderate levels of misalignment. The more severe your case is, the more time will be needed for adjustments. If your dentist determines your case is too severe for Invisalign, he'll be sure to inform you during the consultation, rather than make promises he can't keep.
Invisalign is most appropriate for front teeth that are misaligned, rather than molars, which are notoriously difficult to shift with clear aligners. In some cases, shifting molars can take as long as two years to complete with aligners, so keep this in mind during your consultation. Even though fixing misalignment can make improvements to your bite, it's mainly considered a cosmetic treatment, meaning it focuses on the visible teeth in your smile.
Why Wearing Your Aligners Matters
If your dentist determines you are a good candidate for Invisalign, it's important that you commit to wearing your aligners as much as possible. The more time you spend wearing them, the sooner your treatment will be complete. According to your dentist in Grapevine, patients need to wear them for a minimum of 22 hours per day.
While this may seem like a long time, it's important to take the benefits Invisalign offers into consideration. Since they are removable and transparent, you can still eat and brush the exact same way you did before and your appearance will remain largely the same.
Want to confirm how long your treatment for Invisalign in Grapevine will take? The best way to learn is by scheduling a consultation with your dentist today!
About the Author
Dr. Gregory D. Martin began his dental education at the University of Texas Health Science Center at San Antonio and eventually earned his DDS degree from the Howard University College of Dentistry. He's also a member of the American Academy of Cosmetic Dentistry to help him stay on top of the best techniques for restoring smiles. To learn more about his practice, contact him through his website.