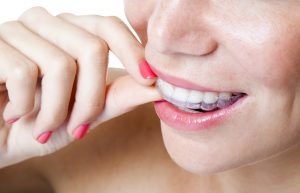 Having straight teeth not only enhances your appearance, but there are proven health results directly related to a straight smile. You can look better and feel better when you have an aligned smile.
Don't think that you only have one traditional option available to straighten your teeth. That's right, you do not have to rely on braces! Learn more about the benefits of straight teeth from your Grapevine dentist and the best ways you can achieve your dream smile in a modern way.
Benefits of Straightening Your Teeth
When you have crooked or misaligned teeth, you may be affecting your health unknowingly. Crooked teeth gather bacteria in hard-to-reach areas, weakening tooth enamel in those areas. Misaligned teeth may also be interfering with a healthy bite and TMJ functionality. Look at all the other positive aspects that come with a straight smile:
You'll have healthier gums without irregular spacing.
It will be easier to clean all the areas of your mouth thoroughly.
Straight teeth prevent abnormal tooth wear.
You will lessen your risk for dental emergencies.
Decrease your chances of experiencing headaches, mouth pain, and neck pain.
Straight teeth can improve your overall happiness.
Modern Ways to Achieve Your Straight Smile
If you're ready to improve your smile, but don't want metal brackets and wires to diminish your professional, mature, or polished appearance, consider discussing these two options with your dentist.
The Revolutionary Orthodontic Treatment: Invisalign
Not only is a relatively new way to shift your teeth, but in its lifespan, this clear aligner system has helped over 4 million patients! You can be confident that the way Invisalign uses a series of custom, removable aligners to gradually correct the alignment of your smile is going to truly be effective.
Invisalign can get you the smile you want up to 50% faster than a traditional orthodontic treatment!
Invisalign labs utilize SmartTrack material and SmartForce features to achieve 75% more predictable tooth movement.
You experience comfort and easy removal when needed.
That's right, you can remove your aligners to eat, drink, and clean your teeth.
Invisalign straightening technology was created to be effective for a variety of orthodontic issues.
Invisalign for teens contain compliance indicators that fade from blue to clear to help them gauge wear time.
Porcelain Veneers: The Straightening Option You Wish You Tried First
Can you imagine simply covering your crooked smile with a straighter one? If a quick fix is what you're looking for, you're in luck! Porcelain veneers are thin sheets of dental porcelain that fit over the front of your teeth for a permanent fix to your most unwanted flaws.
Your veneers will be customized to your face to give you a gorgeous, straight smile. One of the best parts about porcelain veneers is that you can do more than making your teeth appear straighter without even having to shift your natural teeth. You can improve these flaws, too:
Irreversible stains
Chipped teeth
Worn teeth
Crooked teeth
Misshapen teeth
Uneven spaces and gaps
The bottom line is that you shouldn't have to suffer from the effects of crooked teeth. There are many ways to obtain the straight smile that will not only boost your confidence but your dental health.
About Our Office
When you visit Smiles by Martin, you'll be greeted by a team that can't wait to help you reach and maintain optimal oral health. After all, how you smile and feel is reflected through your teeth. If you would like to discuss treatments with our cosmetic dentist, feel free to reach out to our Grapevine office.