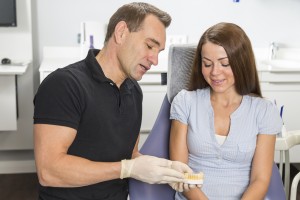 You take great measures to protect your teeth from damage. You brush twice a day, floss daily, and limit your consumption of sugary foods. With such excellent home care, you probably wonder, do I really need to see the dentist twice a year? The answer is yes! In addition to home oral hygiene, regular appointments with your dentist in Grapevine are vital to preventing serious dental problems. With a professional cleaning, you lessen the risk for tooth decay and gum disease. In addition, regular dental checkups allow for early detection of complications to restore oral health.

Why Do I Need to See the Dentist Every 6 Months?
The American Dental Association recommends everyone over the age of two visits the dentist twice a year for preventive care. Unfortunately, only 83% of children and 62% of adults saw their dentist last year. Those who did not, are at a heightened risk of developing gum disease and tooth decay.
While home oral hygiene is essential for preventing cavities and gum disease, it is not enough. Your toothbrush and floss cannot reach all places in the mouth, such as below the gum line. As a result, plaque and tarter develop in these areas, causing pockets to form. When these areas are not cleaned, the buildup will continue, causing the gums to become infected. However, with regular dental cleanings, the accumulations are kept to a minimum to prevent gum disease.
In addition to cleaning the teeth, a comprehensive examination is needed to detect dental problems while they are still small. Too often, people wait until after a complication has developed to see their dentist. As a result, this causes more extensive damage that requires a more invasive and costly procedure. However, with a regular checkup, areas of concern are detected sooner. This allows us to provide prompt intervention to quickly treat damage.
We also offer certain preventive procedures to reduce your risk for developing dental problems. For example, fluoride treatments and dental sealants will ward off the development of tooth decay for strong, healthy teeth.
Where Can I Get Preventive Care?
At Smiles by Martin, Dr. Martin provides the care you need. In addition to cleanings and checkups, several other preventive treatments are available, such as oral cancer screenings, periodontal therapy, and nightguards for TMJ or Bruxism. With the right prevention, you will protect your smile from damage.
Despite our recommendations to see us twice a year, we understand that many are concerned about the cost of dental care, so they avoid the dentist until absolutely necessary. However, we make dental care more accessible and affordable. We will work with your insurance company to file claims to help you maximize your benefits. By doing so, out-of-pocket costs are kept to a minimum so you do not have to worry about exceeding your budget. We also offer many payment options so you have every means possible to visit your dentist.
You take great pride in a healthy, beautiful smile. Do not place it at risk by avoiding your dentist. Contact Smiles by Martin today to schedule your appointment for preventive care.