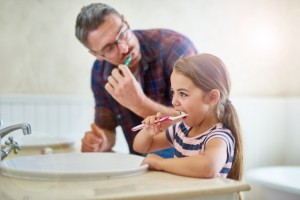 Did you know that February is National Children's Dental Health Month? Your child's oral health is important; they should be seeing the dentist every six months just like you. In honor of this event Dr. Greg Martin, your children's dentist in Grapevine, has some tips for promoting good oral health for your child at home.
Lead by Example
Brush and floss with your child, or let them watch you. When they see you taking good care of your teeth, they'll want to follow suit.
We also encourage parents to bring their little ones along to their own dental appointments. This not only helps children acclimate to our office, it lets them see that what happens during a routine dental visit is nothing to be afraid of.
Brush and Floss Consistently
Teach your child the 2-2 rule. Brush your teeth twice a day for two minutes each time. You'll have to help or supervise their brushing until around the age of six or seven years old. Flossing should be done at least once per day. Teaching your child the importance of consistent brushing and flossing will create good habits for them in the future.
Eat a Healthy and Balanced Diet
Did you know that eating fruits and vegetables benefits your oral health? This is because they neutralize the acids in your mouth that cause tooth decay and also increase saliva flow to eliminate food particles and debris.
The theme for this year's National Children's Dental Health Month is "Choose Tap Water for a Sparkling Smile," reminding us that soda, juice, and other sugary beverages are not good for our teeth. Choosing water benefits both your overall health and your oral health.
Regular Dental Visits
Dr. Martin loves to see children at our office and our entire team is dedicated to making your child's experience exceptional. We understand that these first visits set your child up for success in the future so we do our best to deliver a pleasant and fun appointment each time they come. As your child gets older, Dr. Martin may recommend dental sealants to protect their teeth from decay, and fluoride treatments to help build and strengthen their teeth.
Contact Smiles By Martin
We look forward to meeting your child and building a life-long relationship with them. We encourage you to give us a call today and schedule their next appointment with us.